10 TIPS TO BUILD AN SEO FRIENDLY WEBSITE THAT RANKS WELL ON GOOGLE
Organic SEO is more important now than ever before for small businesses. Studies show that 80-90% of customers check online reviews before making a purchase. With the increase in mobile bandwidth, the number of people searching online for products is only going to increase.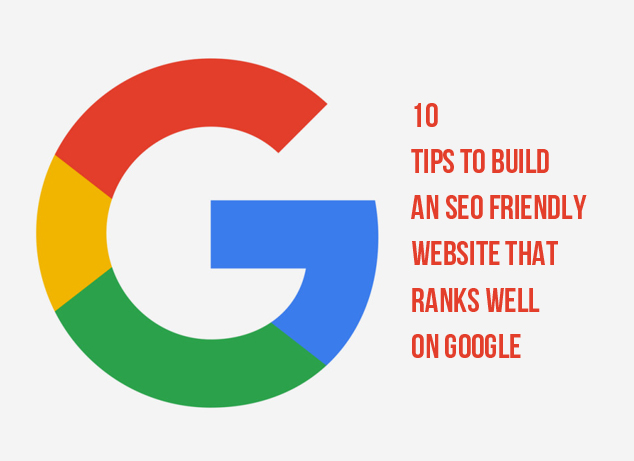 The best reason for going with SEO is that it is cost-effective in comparison PPC ads, Social media ads and purchased leads.
An SEO friendly website's design can be compared to a pyramid:
First, you need a descriptive domain. Example: Great Pyramid of Giza
Then you need to choose phrases based on competitiveness. Example: Pyramid is linked to Egypt, Pharaohs, Nile, etc
Most importantly the site should have a comprehensive structure Example: Layer of the pyramid
Let's look at 10 tips make sure your website ranks well on Google.
1. Optimize Page Speed
Google's ranking algorithm uses page load times to rank your website. When a web-page loads quickly your site visitor is likely to spend more time on the page. Make sure you test the speed of your web page using Google's Page Speed Insights
2. Optimize Images:
Think of a name that describes the images used in your website. If you have an image of a Rolex watch, make sure that you use Rolex-watch.jpg Instead of DSC45316.jpg to describe your image. This description should also be in the alt tag and title tag for your images to ensure that your image is described accurately.
3. Optimize User Experience
If you build your website with your customer's user experience in mind, search engines reward you for it. Get an objective opinion from an average user of your website. Also use Google Analytics to check if there are any user-experience issues. Remember that this is an iterative process and be willing to make the necessary changes.
4. Website Structure

Creating and managing a perfect site structure is almost critical for SEO success. Most important pages on your website should be easily accessible. A perfect website structure also includes internal linking, inbound links (Backlinks) and menu structures.
5. Use HTML5 for Visual Impact
Adobe Flash is invisible to search engines and contributes practically nothing to SEO. A great alternative for visual effects is HTML5. What's more, it works better across a variety of devices and web-browsers.
6. Optimize URL Structure
If you've chosen a WordPress theme, make sure that the URL structure does not contain unnecessary parameters. Ask your developer to follow the guidelines illustrated in the image below when they optimize URL structure.
7. Content is king
It cannot be overstated that content is the backbone of SEO. A well designed SEO friendly website needs great content that is relevant to its users to be successful. Ideally, content should contain keywords that highlight the themes of the post
8. Post to Social Networks
It's great to put your content out on social networks. But remember to share great content from other websites too. In most cases, people will follow you and remember you for the quality of your content and will link back to you.
9. Change Content Frequently
Once your SEO friendly website is up and running, one of the most important things that you need to do is update content on your website. Consider rewriting all the content in your website once a year rather than just making cosmetic changes. Think of this in terms of renovating your store-front.
10. Use Appropriate Formatting
Using h1-h6 to highlight headings and subtitles indicates that your site's content is formatted appropriately. When it is not over-done it sends a strong positive signal to search engines.
Tags