Top 10 Social Media Marketing Predictions for 2015
Posted By Lakshmi Lund, On: November 28, 2014 , In: Content Marketing, Internet Marketing, Social Media Marketing - SMM , 0 Comments
Ever since its creation, social media has grown leaps and bounds. It is no longer looked upon as a medium that only connects people. It has become a thriving platform that marketers use to promote their business.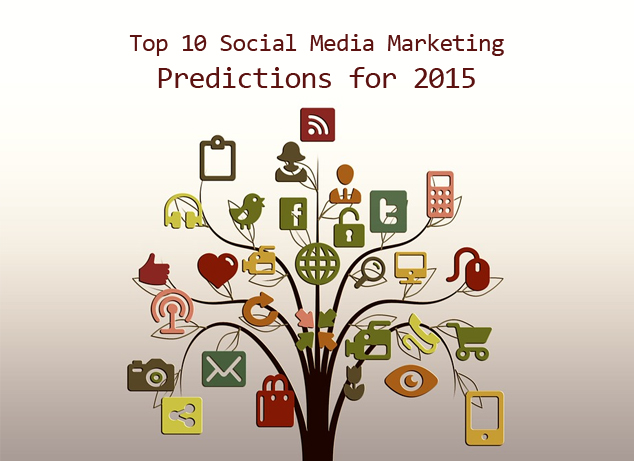 Small and medium size business owners are leaving no stone unturned to take the various advantages that social media offers.
As the countdown for the New Year has begun, here's taking a closer look at what to expect from SMM in the year to come.
1. Outsourcing of social media marketing set to rise

Here's some good news for the developing world. Small and medium size business owners in the west are seriously considering the option of outsourcing their social media activities. This is win-win situation for business owners and nations of the developing world as well. Currently, a majority of corporate giants have their social media marketing activities outsourced. However, 2015 promises to change all of this.
2. Content marketing to get more popularity
The popularity of content marketing is expected to increase even further as the need for good quality content increases day by day. As more and more people search for information and suggestions regarding the products and services they are willing to by increases the demand for good quality is expected to rise accordingly in 2015.
3. Videos will become more sort-after
A research study pointing out that superior quality videos can increase the size of shopping cart by a whopping 178%. People readily believe a video over text content. Also people generally prefer to watch a video over writing a long text content. The popularity of superior quality videos marketing of products or a service has reached an all-time high this year and their fame will continue to grow in 2015.
4. Increase in mobile phone marketing
The rising number of Smartphone users has made mobile phone marketing one of the preferred options. This year a majority of small and medium size business owners opted for mobile marketing platform to capture the attention of potential customers. Armed with the ability to reach out to people who are constantly on-the-go, mobile phone marketing is all set to reach greater heights in 2015.                                .
5. Personalization of social media marketing
Small and medium size business owners are doing all that they can to being in an element of personalization in their social media marketing efforts. Digital media observers believe that the marketing trend will shift from being globalized to becoming personalized the following year.
6. Consumer will gain more power
Transparency of products and services is all set to gain momentum in 2015. Media observers share the opinion that companies who give a real time and accurate picture of their products are the ones who will be loved by consumers. In 2015, it is believed that social media marketing efforts will no longer be fictional.
7. Utility will gain momentum
A lot of consumers do not have the time to scan through social media activities of brands. So, as a small or medium size business owner, you can ensure that your social media activity offers some benefit to your targeted consumer. In 2015, utility based social media to gain momentum.
8. Ratio of marketing and infotainment messages set to change
Beyond doubt, social media is considered as a powerful marketing tool. However, consumers these days do not like the idea of being bombarded with marketing messages. Keeping this in mind, the ratio of marketing and infotainment messages on social media is set to change. In 2015, we can expect a balance of marketing and infotainment messages on social media.
9. Niche and micro segment to thrive
Social media marketing activities are targeted towards a mass target audience. As a small or medium size business owner, your aim will be to reach out to your niche audience. It is believed that in 2015, business owners will use social media marketing to target niche audience. Say residents of a specific street or students of a particular grade and so on.
10. An increase in online advertisement spending
Thanks to convergence of media, the number of people who have access to the internet has increased. This growing number of online population has only forced advertisers to increase their budget towards online advertising. In the following year, don't be surprised if you come across more number of advertisements while surfing the internet.
Technology has changed the social media landscape drastically. As owner of a small or medium size business, you too can take advantage of the power of social media.
Tags