Top 3 Sales friendly website Development tips for your business website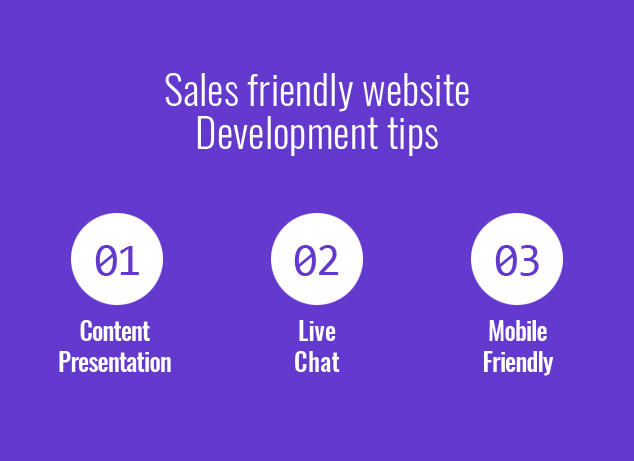 Did you know that 6 out of 10 websites on the World Wide Web are not sales friendly? Every business owner will aim to make maximum sales from their business website. If you wish to transform your sales website into a money making machine, you can consider adopting these top 3 website development tips.
Content Presentation
Content is one of the most paramount factors of a business website. In order to bring out content in an eye-catching manner, a Content Management System (CMS) can be used. WordPress is one of the most widely used CMS platforms. WordPress also gives its users the option of using various plug-ins to enhance the visibility of the website content. Content on a business website must be concise and to the point as website visitors find concise content easy to read. Survey results points out that online shoppers tend to spend more time and purchase from websites that have easy readable content. If content writing is not your cup of tea, you can take the help of a professional content writer. Apart from presentation of content, a good business website also should have effective call to action. Call to action must prompt website visitors to make a purchase from your business website.
Inclusion of live chat
Results from various surveys bring to light that online shoppers trust and make purchases from websites that offers live chat support. The problem with online shopping is that many customers tend to experience the feeling of a disconnection. This can arise due to the absence of someone who can answer their questions or clear their doubts about products or services the business website deals with. Live chat support, can solve this trouble. It can also go a long way in improving the overall look and feel of a business website. There are various live chat software options that business owners can choose from. They are
Bold Chat: Comes with features like passive browsing sharing, web-based chat reporting, SMS, e-mail and twitter management, customizable buttons and windows among other features. It is also one of the most widely used chat support software and it is used by 24 of the top 500 internet retailers.
Live Person: Based on the customers purchasing history, this software allows you to customize web strategy to enhance your website visitor's experience. It also provides you with the option to check and track how your online engagements have affected the purchasing behavior of your customers.
Livezilla: Comes with features like quality assurance chats, proactive chat invites, rich text chats, sound and visual alerts, WebCam support, file transfer, e mail transcriptions, operator to operator chats and many other features. Available for free and as a paid version.
Making website mobile friendly
Mobile phones give users the ability to access the internet while on-the-go. This has prompted a majority of users to use the internet from their Smart phones and tablets. If your business website is not mobile-friendly, now is the time to optimize your website for mobile phone devices. Results from a survey points out that 27% of consumers will leave a site if it is not mobile-optimized and 54% of consumers believe that it is easier to find information on mobile-optimized sites. Here are a few tips that you can use while creating a mobile-friendly website.
Make the website completely navigable with just one thumb or the index finger.
Opt for a simple website design.
Use short and sweet content.
Go with image that will load fast.
Incorporate use of icons wherever necessary.
Apply videos but use them wisely.
Above all a sales-friendly website has a perfect mix of elements like good quality content, balance design, hassle-free navigation and great functionality. When a customer is happy with your website, they might tell their friends or family about it. But when they are unhappy with your business website, they will tell the world about it. A business website must be developed keeping in mind the needs and wants of customers.
Tags